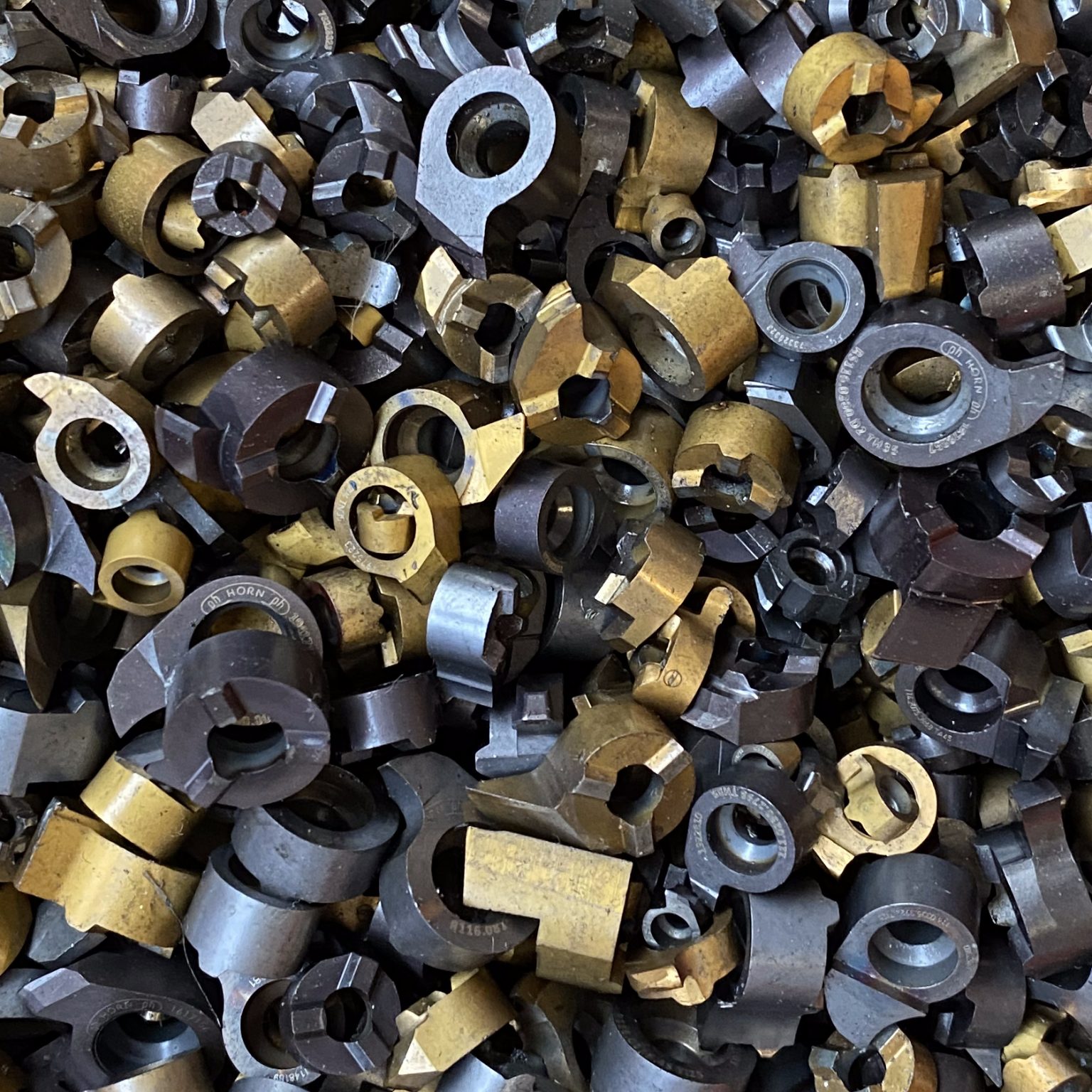 We buy and sell:

Thread mills
Taps
Carbide drill
Drills
Bore cutter
Mills
Sinters
Planer blades
Barker knives
Wood cutting knives
Carbide precision tools
Carbide powder
Carbide blanks
Carbide mud
Carbide cutting tools
Carbide special tools
Carbide punching tools
Carbide dust
Carbide centering points
Carbide drawing dies
Carbide shavings
Carbide rods
Micro drill
PCD tools
Platinum drill
Carbide reamers
Raw carbide
Rotary cutter
Countersinks
Roll rings
Indexable inserts
Tungsten
Tungsten copper
Tungsten nickel
Cutting tools
Diamond tools
Turning tools
Molded parts
Burrs
To secure the environment, we made one of our main goals, to buy carbide and sort the basic materials for further needs or recycling processes.
Hard metals are alloys made from metallic hard materials (carbides) and a carrier metal.
The most common tools are drills, endmills, taps, saw blades and reamers and also inserts.
Carbide consists, among other things, of tungsten carbides, which are characterized by their wear resistance and high hardness. If cemented carbides have a high thermal hardness, they can be used in many manufacturing companies for the assembly of tools. For example, hard metals in the form of drills, milling cutters and indexable inserts are used in CNC machines, lathes or milling machines. The resilience of this material makes it possible to take over and improve many parts.
Carbide metal mostly consists of 90–94% tungsten carbide (reinforcement phase) and 6–10% cobalt (matrix, binder, toughness component). The tungsten carbide grains average about 0.5-1 micrometers in size. The cobalt fills the gaps.
Cast carbide, which is still widely used in the processing of fresh wood, is known as Stellite. The advantage of Stellite in a wood saw application is that it is comparatively easy to solder onto the saw body. It can then be ground into the desired geometry using inexpensive grinding wheels. Stellite saws can be sharpened more often than carbide saws.
Sintering is based on the fact that high-melting hard materials in the finely comminuted state are mixed with a more easily melting second material (additional body) and heated to temperatures below the melting point of the difficult-to-melt part (carbide), the temperature and duration of the heating being selected so that the carbides cake together. With thin wood saws, it is problematic to attach the hard metal cutting edge firmly to the saw body. Even when manufacturing with plasma welding devices, tooth loss occurs again and again while the saw is in use. Another disadvantage is that hard metal saws have to be sharpened with an expensive diamond grinding wheel, while the base body should be sharpened with a stone wheel, since the carbon of the diamond has a high affinity for steel and the diamond grains wear out.